Welcome to the StreetPass Game Show
PAX East 2017 Version


Which Nintendo hero would portray you in a Netflix mini-series about your life?

Which Nintendo villain would portray you in a Blockbuster Thriller about your life?

If you're running out of steam while gaming, which beverage do you reach for?

Name a Blue Pokémon.


Best "B" for (for Boston) Pokémon


Why does Bowser REALLY keep kidnapping Peach?


What item from Mario Kart do you want in real life?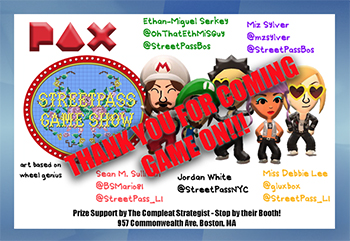 game show art design by
wheel genius
and slightly modified by Miz Sylver
bwahaha
powerpoint base design by
Youth Downloads
if you have the money, please donate to Youth Downloads - their site is amazing!

Prize Support Provided by The Compleat Strategist
957 Commonwealth Ave, Boston, MA
Thank you to surprise guest, Julius, from
Image & Form Games
!
Check out StreetPass Long Island's
coverage
!