game show art design by
wheel genius
and slightly modified by Miz Sylver
bwahaha
powerpoint base design by
Youth Downloads
if you have the money, please donate to Youth Downloads - their site is amazing!


StreetPass Game Show

StreetPass Long Island in collaboration with StreetPass NYC and StreetPass Boston will be hosting the third StreetPass Game Show, which originally debuted at Eternal Con. We asked the gaming community to answer questions about popular Nintendo titles. Join the audience in trying to guess the top answer or maybe you'll be chosen to battle it out on stage for top prizes! Don't forget your Nintendo 2/3DS for StreetPassing!PANELISTS:

PANELISTS:
Debbie Lee Gluzband [Co-Founder, StreetPass Long Island], Sean M. Sullivan [Admin, StreetPass Long Island], Rydia Q Vielehr [Chief Event Organizer, StreetPass Boston], Jordan White [Founder, StreetPass NYC], Ethan Miguel Szoke [Blogger, Don't Read This Yet]

Everyone who attended that other panel about
podcasting
...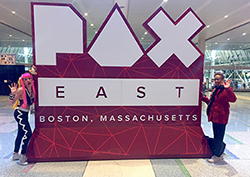 P.S. Did you see MY MOM at the convention?
Thank you for the ticket, Jeff!!